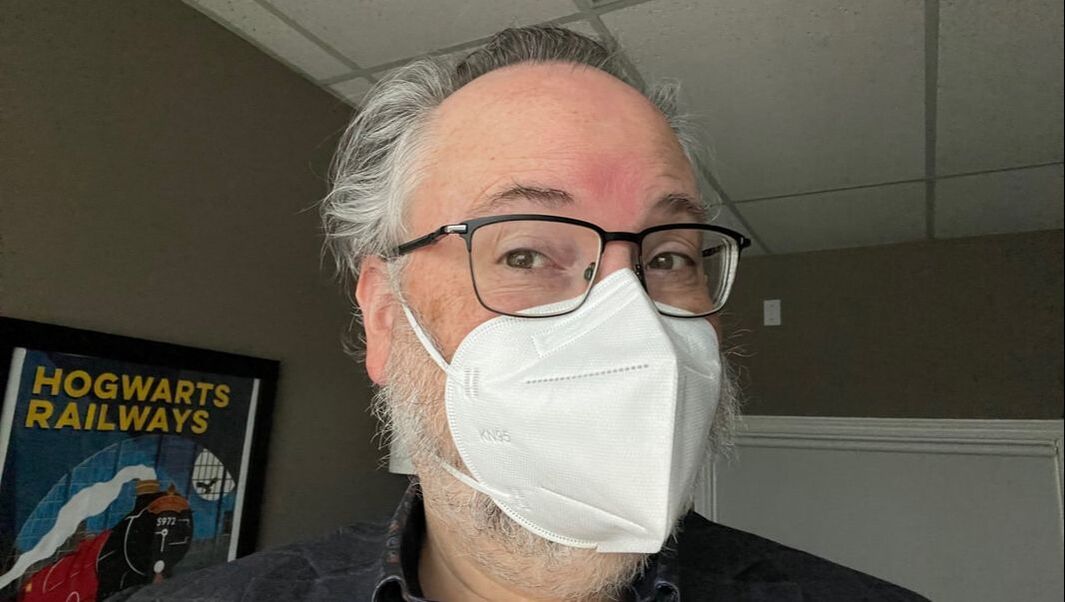 On March 21, 2022, the mask mandate in Ontario will almost certainly be lifted, but you'll see little change here at Central Ontario Psychology.
Many of our offices have big, bright windows which, unfortunately, don't open. The typical psychotherapy session means two people will spend an hour together in one of these poorly ventilated spaces. Privacy demands that the door remains closed.
This is very different from the kind of brief encounter you might have while shopping. The clinician and the client will soon be breathing each other's air, and they'll be doing it for an hour.
We have equipped each office with a HEPA filter. This won't hurt, and it should help—but how much protection will it really offer? We don't really know.
Throughout the pandemic, we've enjoyed the legal right to provide our services to our clients face-to-face, provided everyone was masked (if they are capable of wearing one). But we made the choice, for the sake of the safety of both our staff and our clients, to offer as much of our work as we can through encrypted video services.
While the legal obligation to wear masks has changed, our ethical and moral obligations have not changed: We must offer our services in the manner which is safest, for both our clinician and our clients. [
Update: As it turns out, our legal obligations haven't changed: In healthcare facilities, everyone still has to be masked, according to the Chief Medical Officer of Health.
​]
This is not fear—this is compassion.
COVID is proving to be a pernicious disease. While much of the focus has been on short-term outcomes, leading cases to be classified as "mild" if they don't lead to hospitalization or death, the longer-term impact is only just beginning to emerge. It appears that even "mild" cases, including cases that were barely symptomatic, may be associated with severe consequences, such as increased risk of cardiovascular disease or cognitive impacts. There's also the possibility that infections can lead to problems that won't be apparent for many years, in the way that chicken pox can lead to shingles.
Vaccination has been terrifically helpful in reducing the severity of the symptoms, leading to reduced hospitalization and death. What is the impact of vaccination on these other severe consequences? To the best of our knowledge, those answers aren't yet available. But if even mild symptomatic presentation is associated with these consequences, that could prove to be a major problem for society.
In addition, masks are our best defense against any new variant which might evade vaccination. Let's not forget that Barrie was Ground Zero for the alpha "UK" variant in January 2021.
Therefore, for everyone's safety, our policy will be to continue to require masks on both clinicians and clients in our facility (if they're capable of wearing one).
In addition, we will continue to rely on video sessions, when the required service permits it (for example, some assessment procedures require masked face to face encounters, sometimes with brief removal of masks; and some psychotherapeutic procedures are best performed in the office). We will evaluate the need for face-to-face services in each case, with the goal of limiting the risks to our clients, clinicians and staff; and we continue to encourage the use of video services, whenever possible (which comes with the added benefit of making parking a heck of a lot easier!)
We look forward to being able to work with you, face to face and without masks. We want to be with you in your pain, and we want to see your smiles. But for now, we'll be seeing them primarily through our video screens.
And speaking personally, I prefer seeing those smiles over video to having them hidden behind masks!
By the way, if you're going to wear masks, you might want to wear the best. Any mask will be better than none; surgical masks are decent at protecting the people around you; but a well-fitting N95 mask can dramatically improve the wearer's safety. And here's how they work:
​
https://youtu.be/eAdanPfQdCA
--Dr Jonathan Douglas